Truly, time waits for no one. As we grow older and slower, time seems to proceed faster and faster. So much has happened in the last year and a half since our last issue of "One Thing Needful" that it is difficult to remember it all, but these are some of the highlights. Every day brings its own blessings — sometimes in trials and tribulations, but always with many blessings.
January 2017 found us being two again. We don't understand why, but firmly believe that God has a plan which will work beautifully.
The Knitters' Retreat changed names and is now known as Fiber Retreat since spinners, crocheters, and others who work in the fiber arts attend. Eleven women attended in 2017 from February 10th-11th. Then in 2018 on February 2-3, only six attended due to not notifying people of the dates far enough in advance.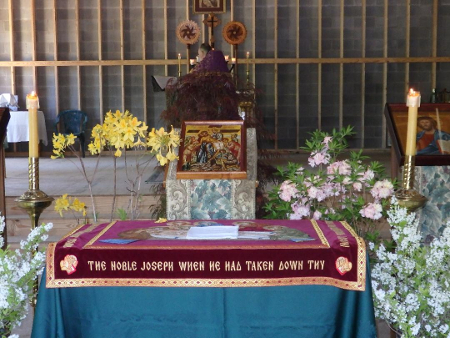 Several things stand out about Lent, Holy Week, and Pascha (Easter) of 2017. We had a retired priest serving Liturgy here which meant we didn't have to travel. However, Mother Thecla was still directing the choir for noon Presanctified Liturgies on Fridays at Holy Apostles Orthodox Church in Columbia, South Carolina. This was the first year we could place large, potted plants around the Plaschanitsa (Epitaphion or winding sheet of Christ) for Holy Friday Vespers. Pascha was celebrated by the four of us (the priest, his wife, and two nuns) in our unfinished chapel. With only extension cords strung from the electrical pole outside, it was dark inside, even with the lights we had — four floor-standing lamps, small contractor's lights, flashlights, battery-powered tea lights, a few candles, and a couple of battery-powered music stand lights. Three times we processed around the interior of the nave as doing so outside presented many tripping hazards. It is doubtful that we will ever forget our first Pascha here.
On different dates during Lent, a mother with her nine children and then later a group of women from Saint Anthony the Great Orthodox Church in Rock Hill, South Carolina, arrived to help us with work projects.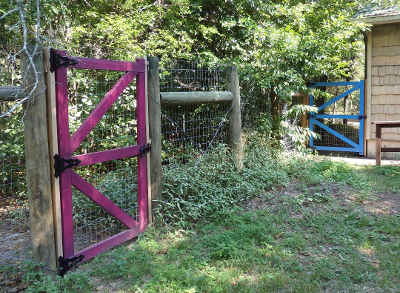 In March of 2017, a six-foot fence with eight inch post and four gates was installed around the vegetable garden. Each of the gates which lead to different paths were painted with a different bright color. This makes it easier to give directions to visitors. During and after this time five raised beds were built. The fifth one is not yet finished, but that will wait for cooler weather. Some day, most of the vegetable garden will have raised beds.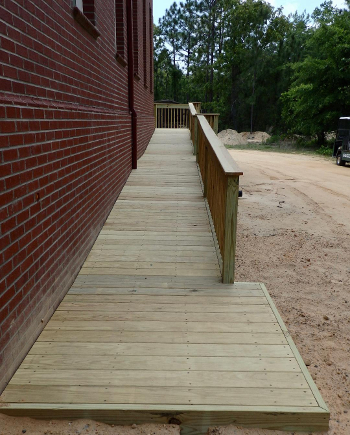 Not having a way to enter the chapel under construction without going through the altar area, we had a temporary ramp built according to building codes, constructed along the north side and around the west side of the building so people can enter the nave. While the workmen endeavored to finish it by Pilgrimage at the end of April, only the steps were usable to enter the nave. The ramp was finished the next week.
On April 29th, we hosted our eighteenth Pilgrimage. Sixty-four people attended, four of whom were priests. A one-hour lecture on "Why Monasteries?" was given by Fr. Edward Rommen.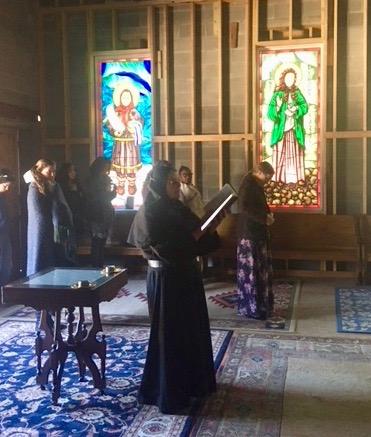 Over the last year and a half, Saint Olga of Alaska's face was corrected so that she looks like herself and not like a tired old Polish woman in traditional Yup'ik dress. On November 26th, three additional stained glass icons were installed. The lioness in Saint Thecla's window was made with dark brown and creamy brown glass so that it gave one the impression of partly appearing and partly disappearing like the Cheshire cat in Alice Through the Looking Glass. Saint Lyubov of Rayzon is clothed in bright colors as was her wont. Saint Anna with her child, Mary, is very regal. Pictures of these four windows and additional comments appear later in this newsletter. Colored drawings of Saint Mary and Martha of Bethany have been approved and are in the making.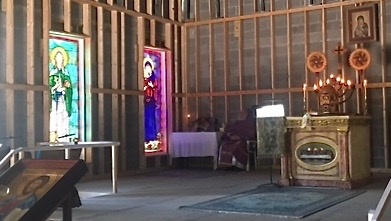 For twenty-two years we have loaded up donated goods and driven to the Barnyard Flea Market to raise money for our Building Fund. In the scheme of things, it's not that much, but it all adds up. We were there on June 10th and November 11th of 2017 and then on May 26th of this year.
Thirty teenagers and chaperones from Florida who were staying at the Cardinal Newman Center in Columbia, South Carolina, came to our monastery on June 15-16, 2017. They accomplished many, much needed and arduous tasks for us.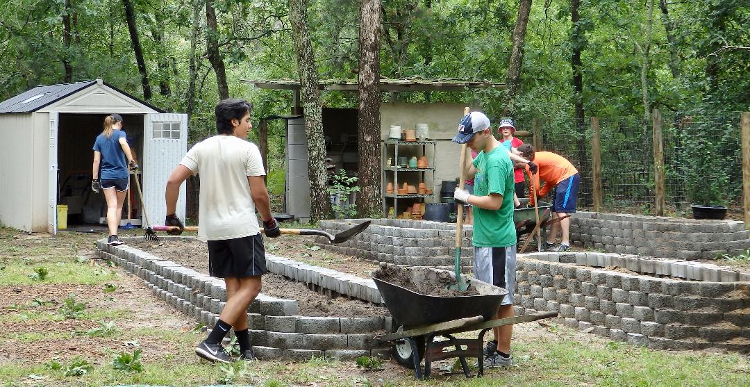 Some shoveled soil and compost into the newly built raised beds, others trimmed low hanging branches that protruded into our driveways, another group cleaned up the perennial garden, while still others did things like digging out a grape vine that was strangling other wanted plants, picking up fallen limbs and taking them to one of the burn piles, and other outside work. They were a really great group of Christian young people.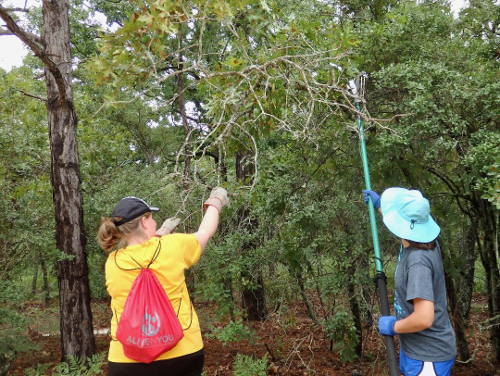 June 30th is Holy Apostles Feast Day on the Orthodox calendar. Each year we make it a point to attend Liturgy at Holy Apostles Orthodox Church in West Columbia, South Carolina, to celebrate their feast day with them.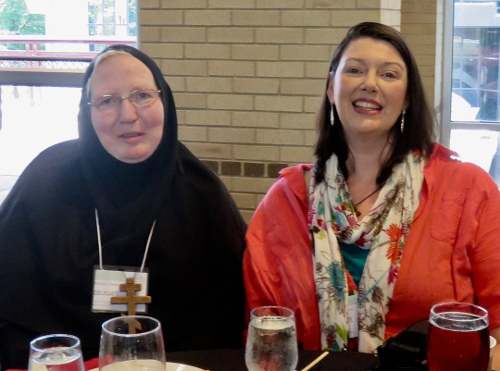 During a heavy rain with high winds, we realized that the roof of our doublewide needed to be replaced and that a large tree branch had fallen through the roof of the little storage building which also houses the bladder tanks which provide water pressure for us. Due to our having patched it and removed mildew growing on the ceiling numerous times in the last twenty-one years, we decided to have the roof and insulation removed completely and replaced. So during the hot month of July 2017, we had both roofs replaced with green metal roofs, replaced the skylights with Velux Skylights, and have the popcorn ceilings removed in both bathrooms. The work created a mess both inside and out, but was well worth the trouble. It is our hope and prayer that we will never have to replace the roof or skylights in our lifetimes.
Last year's Diocesan Assembly was in Chattanooga, Tennessee, from July 25th-28th. It is always enjoyable meeting friends from across the Diocese of Dallas and the South. There was a great little diner near the hotel which had an array of fabulous desserts. The picture to the right is of Mother Thecla with Matushka Cana Henry at one of the luncheons.
August 11th was one of those days that most people note on their calendar as a once in a lifetime event. We saw and photographed a total solar eclipse. Day animals grew quiet and night animals started their songs. Crescent shadows reflected off of the leaves. A sense of awe filled us.